This piece by Jens Wieting originally appeared in the Huffington Post.
If you live in British Columbia you might think that our province is a climate champion, because you heard it from our government. Last month, for example, the provincial government sent out a bold press release touting B.C. as a world leader in climate action. The release highlighted B.C.'s carbon tax and the accomplishment of "meeting our 2012 GHG reduction target."
However, just a few days later, the Canadian government released its latest greenhouse gas emissions data showing that B.C.'s emissions actually increased by 2.4 per cent in 2013 (to 63 million tons of greenhouse gases, from 61.5 in 2012. This is a big deal, because the threat of global warming has reached a point at which we cannot afford our annual emissions to continue to increase.
In March, the monthly global average concentration of carbon dioxide passed 400 parts per million. When the concentration of greenhouse gases was last this high, temperatures were several degrees warmer and sea level many metres higher.
If we want to curb rising temperatures and sea levels, we need immediate and far-reaching annual emission reductions, especially in industrialized nations like Canada. There is only one path to stabilizing the climate: annual emissions must decrease every year and they can never go up. This is the first step towards saving our climate — don't make our annual carbon pollution worse.
Fortunately, many countries around the world are now taking steps into the right direction and are reducing their annual emissions, from Europe to the U.S.
China managed to reduce coal consumption for the first time in 2014. Thanks to renewable energy success and other breakthroughs, global annual emissions remained stable in 2014, and didn't go up as usual.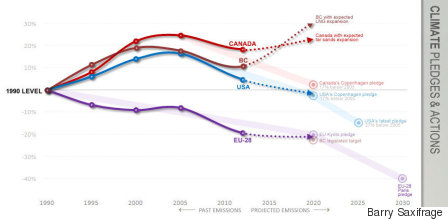 Image courtesy visualcarbon.org
The B.C. government release announced that work on Climate Action Plan 2.0 is about to begin and that "the Province is challenging other jurisdictions to match or exceed the world-leading standard B.C. has set for climate action." It is great to hear that work on a new climate action plan has begun. But this plan needs to be grounded in an honest assessment of our success to date, not wishful thinking.
So what progress has our province made so far? Eight years ago, the province set a relatively
ambitious target: to reduce B.C.'s emissions by 33 per cent of 2007 levels by 2020. Unfortunately, the new data shows we are way off track, with a reduction of only 2 per cent and only 5 years to go to our deadline.
In contrast, the European Union had reduced emissions by 19 per cent in 2013, compared to 1990 levels. By contrast, B.C.'s 2013 emissions were 13 per cent higher . Premier Christy Clark's claim that B.C. is still a "world leader in the fight against climate change" is highly misleading.
The 2013 emissions increase is a wake-up call and the province must take immediate action to reverse this trend. Among the many measures needed is phasing out fossil fuel subsidies and re-establishing the annual increases in the carbon tax rate.
But perhaps the most important step to make it possible for B.C. to get back on track is for the province to introduce a "climate test" for all energy infrastructure projects — a mandatory assessment of the full carbon footprint of new coal, oil or gas infrastructure projects.
For example, the B.C. government has not yet given up its goal to build at least three LNG terminals by 2020, which would lead to a massive ramp up of fracking in the province. This would increase provincial emissions by more than 50 per cent, entirely incompatible with the idea of saving a livable climate. We must cease making these large, long-term capital investments in new fossil fuel infrastructure because they would lock in additional emissions for decades. This is crucial for getting out of the hole: Stop digging.
B.C. has a diverse economy with many opportunities to strengthen low-carbon sectors with a bright future like clean technologies, renewable energy, tourism, creative industries, forestry and agriculture. We must restore our forest's function as carbon banks by increasing forest conservation and improving forest management. Our province can become a real climate leader through a full shift away from gas, oil and coal, to climate solutions that create more and better jobs. This would allow us to actually meet our reduction targets and aim for new ones.
B.C. should follow Premier Clark's suggestion to "meet or beat" the world-leading standard for climate action and adopt the same target that California and the European Union set their eyes on: a 40 per cent reduction of 1990 emissions levels by 2030. In light of the failure of the Canadian government to take the threat of global warming seriously it is time for the provinces to step up to the plate and inspire hope on the road to the important climate summit in Paris end of the year.
Read the original story in the Huffington Post. Also published on DeSmog Canada.